Full Mouth Restoration in Calgary, Alberta
For individuals who suffer from stained, damaged, decayed or missing teeth, it can make speaking, eating, or even smiling difficult and uncomfortable. Poor oral hygiene or improper dentistry are some of the common reasons that can cause patients to seek restorative dental treatments to restore their smiles to full health. At Shawnessy Dental Centre, we use a wide assortment of restorative and cosmetic dental treatments to improve the health of your smile, including dental crowns, dental bridges, porcelain inlays / onlays, non-surgical therapy, and dental implants. Our treatments are customized to your specific needs and we will work with you to create a personalized treatment plan.

If you're serious about improving the health of your smile, contact our practice in Calgary to schedule a complimentary consultation.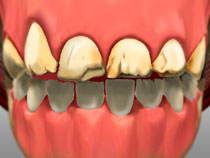 Last Updated On
2019-08-25