Full Mouth Restoration in Calgary, Alberta
Some patients require a variety of treatments from their Calgary dentist to achieve the results they're looking for, particularly if more than one, or even all of the patient's teeth require some form of attention. This can happen as a result of a variety of factors. Most commonly, the patient has been either neglectful towards their teeth, or has been using improper oral hygiene technique for an extended period of time.
For individuals who suffer from stained, damaged, decayed or missing teeth, it can make speaking, eating, or even smiling difficult and uncomfortable. Poor oral hygiene or improper dentistry are some of the common reasons that can cause patients to seek restorative dental treatments to restore their smiles to full health. Your family dentist at Shawnessy Dental can determine if a full mouth restoration is an appropriate course of action to improve the overall health of your mouth and teeth, while improving the aesthetics of your smile.
Don't let yourself feel overwhelmed by what you perceive to be an insurmountable number of treatments you may require. Full mouth restoration is a course of action that will help you to address multiple problems in one consultation, and subsequent treatment visits, without having to take care of them piecemeal.
At Shawnessy Dental Centre, we use a wide assortment of restorative and cosmetic dental treatments to improve the health of your smile, including:
Our treatments are customized to your specific needs and we will work with you to create a personalized treatment plan. All of these services are of course offered on an individual basis, but in some cases, patients want to see more immediate, widespread and dramatic results. 
If you're serious about improving the health of your smile, contact our practice in Calgary to schedule a complimentary consultation. You can contact us by phone or email, or request an appointment online.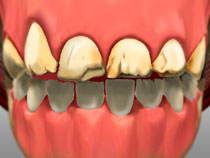 Last Updated On
2019-10-21