Tooth Colored Bonded Fillings in Calgary, Alberta
Shawnessy Dental, your cosmetic dentist in Calgary, offers tooth coloured bonded fillings. For 150 years the standard for fillings in dentistry has been amalgam fillings, which consist of a mixture of a variety of metals, including silver and mercury. The resultant alloy is durable, impact resistant and chemically inert. However, some patients consider them to be unsightly. Particularly if the tooth in question is visible when you smile. 
Fortunately, recent developments in dental technology have allowed us to restore problematic teeth without having to resort to using metal amalgam fillings. Shawnessy Dental Centre, your Calgary dentist's office, is happy to offer you, our patients, tooth-coloured bonded fillings that can be used to restore teeth that are decayed, worn, or damaged. These attractive composite dental restorations are made from an extremely strong resin that strengthens and protects the tooth from further damage. The composite resin is chosen by your dentist to ensure that the shade and colour of the tooth is a perfect match to your other natural teeth. 
Amalgam fillings do offer certain advantages. For one, they tend to be the least expensive option available. And for their price, they are extremely durable, as well as long lasting. They may be the correct choice for certain patients, but if your concern is more aesthetic, white bonded fillings are still an excellent choice. While they are not quite as durable as amalgam fillings, they are still very strong, and you can expect them to last at a minimum, five years.
Another advantage to composite resin tooth-coloured bonded fillings is that they can be placed in a single appointment so you can have a healthier smile in no time. To learn how we can help improve your smile, contact us, your Family dentist in Calgary, to set up a free consultation. Or if you'd prefer, you can make an appointment online.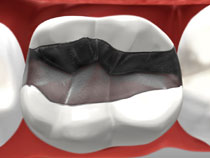 Last Updated On
2019-10-21