All smiles are unique and beautiful, but not everyone is born with naturally straight teeth or an aligned bite.
Misaligned teeth can affect your self-esteem and cause wear and tear on your teeth, gum, and jaws. Orthodontics is a way to achieve the straight smile you've always envisioned.
Invisalign is a type of orthodontics that offers clear and convenient benefits to patients. To straighten your smile, talk to your dentist to see if Invisalign is right for you.
The Benefits of Invisalign
Traditionally when we think of orthodontics, we think of metal braces with brackets and wires.
Though braces effectively straighten your teeth, Invisalign has become increasingly popular due to its convenience and discrete nature. The clear aligners are virtually unnoticeable compared to metal braces.
Invisalign uses a series of clear aligners made from smooth, comfortable plastic that can be removed whenever necessary. By being able to remove the aligners, patients can easily clean their teeth and the trays of food or other build-up that has formed throughout the day.
Invisalign is also typically a shorter treatment length than traditional braces. An Invisalign treatment can be completed in as little as 6 months, depending on your specific needs, and improvements can be seen in as little as a couple of weeks.
How Does Invisalign Work?
Invisalign is an orthodontic treatment used to straighten your teeth and correct your bite.
The clear aligners are custom-designed for each patient based on computer-generated images and impressions taken of the teeth. The aligners gradually move the teeth to their intended position using gentle pressure.
New aligners are given to the patient every couple of weeks throughout the process. For optimal results, you'll need to wear your aligners for at least 22 hours per day.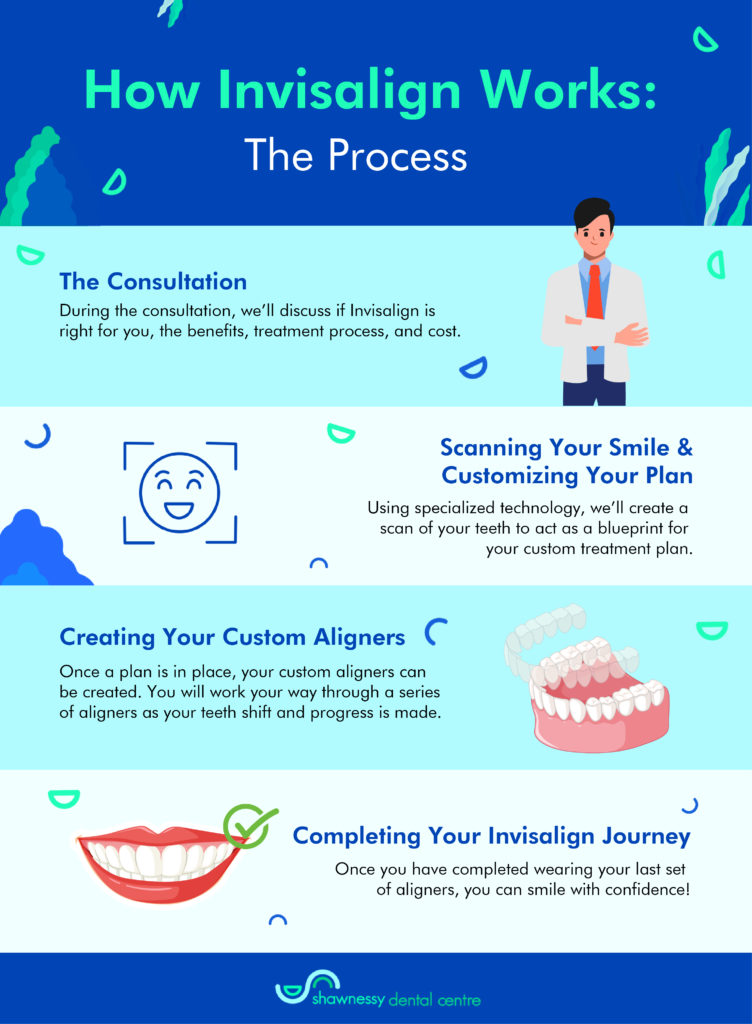 The Invisalign Process
Consultation
If you're considering Invisalign, we'll start with an initial consultation. During this appointment, we can lay out the process, how Invisalign works, expectations, and cost.
Our knowledgeable team can provide you with the information you need to make an informed decision and answer any questions you may have.
Scanning Your Smile
Once it's been decided to start your Invisalign journey, the first step is scanning your smile. Using the precision iTero Element scanner, we'll get a 3D scan of your teeth to determine a personalized treatment plan to straighten your smile.
These accurate images will act as a blueprint for creating your custom Invisalign aligners.
Creating Your Plan
After producing the 3D image of your mouth and teeth, your dentist will input the results into the ClinCheck software to map out your unique teeth straightening process. This software will cover each stage of the process in detail and what aligners are necessary for your desired smile.
Custom Aligners
Once all the information from the iTero Element scanner and the ClinCheck software has been produced, we'll send it off to Invisalign to create your personalized aligners. Once created, we'll go over the initial fit.
It's important to remember that your aligners may not feel comfortable right away because they create gentle pressure to help align your teeth. You'll quickly become used to how they feel and notice how comfortable they are.
Maintaining Your Beautiful Smile
Consistently wearing your aligners will allow this process to remain on track and provide you with optimal results. Your dentist will meet with you every 6–8 weeks to monitor your progress and give you your next set of aligners.
To take care of your aligners and teeth, remember to:
Remove your trays when eating or drinking anything other than water
Remove food or debris from your mouth before putting the aligners back in
Brush your teeth and aligners before bed every night
Once you've completed your Invisalign journey, your dentist may recommend wearing a retainer to keep your teeth in place for the long-term.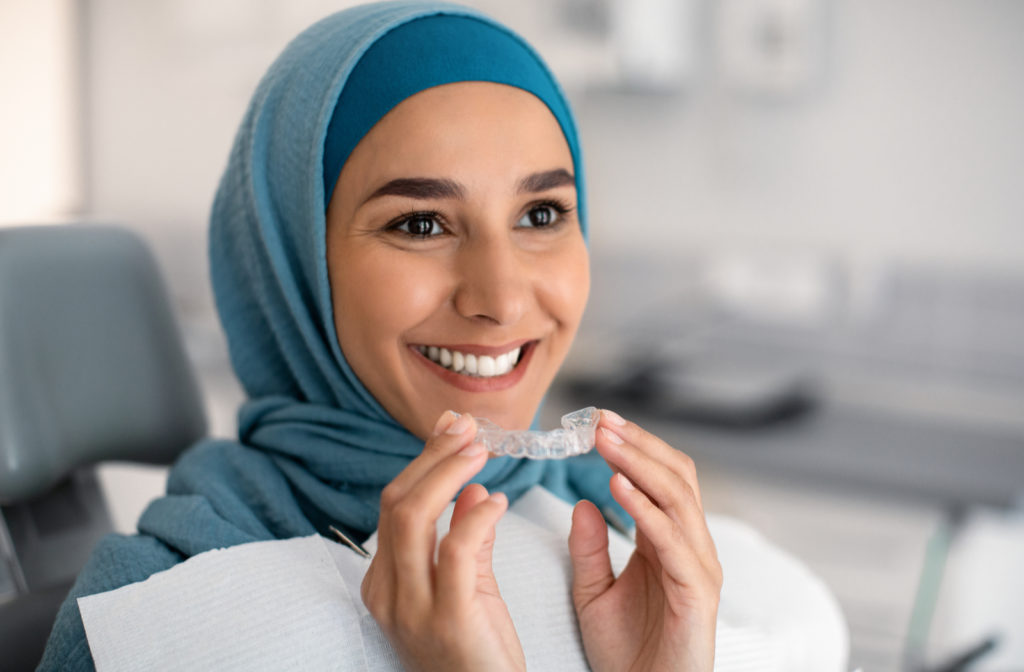 Show Off Your Smile With Confidence
A straight and healthy smile is not only an important part of your overall oral health but can boost your confidence too! With Invisalign, see improvements in a matter of weeks, with treatments taking as little as 6 months.At Shawnessy Dental Centre, we love seeing our patients smile and helping them achieve their goals. To learn more about the Invisalign process and if it's right for you, visit us today.