You do a lot to keep your smile healthy and bright. You brush and floss every day, visit your dentist for an exam and cleaning, and try to eat healthy foods. But is there something holding you back from having the smile of your dreams?
If you don't replace a toothbrush often enough, it can affect your dental health.
Most of us know our toothbrushes aren't meant to last forever. But it can be hard to know when it's the right time to replace your current toothbrush with a new one. While there are a few different factors that can affect how often you should replace your toothbrush, you might be surprised just how often you should be doing it.
Keep reading to learn more about proper toothbrush care and other tips for maintaining a good oral hygiene routine.
The Importance of Oral Hygiene
We all want a bright white smile, but good oral hygiene goes beyond that. While the look of our smiles is a huge part of why we take care of our teeth, your oral health is actually directly related to your overall health.
In addition, a good oral hygiene routine acts as a preventative measure. Taking good care of your teeth now can help you avoid further dental issues and costly procedures down the road.
A proper oral hygiene can help prevent:
How to Take Care of Your Teeth
By combining a proper oral hygiene routine and regular exams and cleanings, you can enjoy a healthy smile. But how do you know if you're taking proper care of your teeth at home? Follow these tips to protect your teeth in between trips to the dentist:
Brush your teeth twice a day for at least 2 minutes each time
Floss at least once a day, preferably before bed
Avoid using tobacco products
Limit alcohol use
Consider upgrading to an electric toothbrush
Eat a healthy diet
Limit sugary & acidic foods
If you're unsure of the best oral hygiene routine for you, don't hesitate to reach out to our team at Shawnessy Dental. We're always here to help you.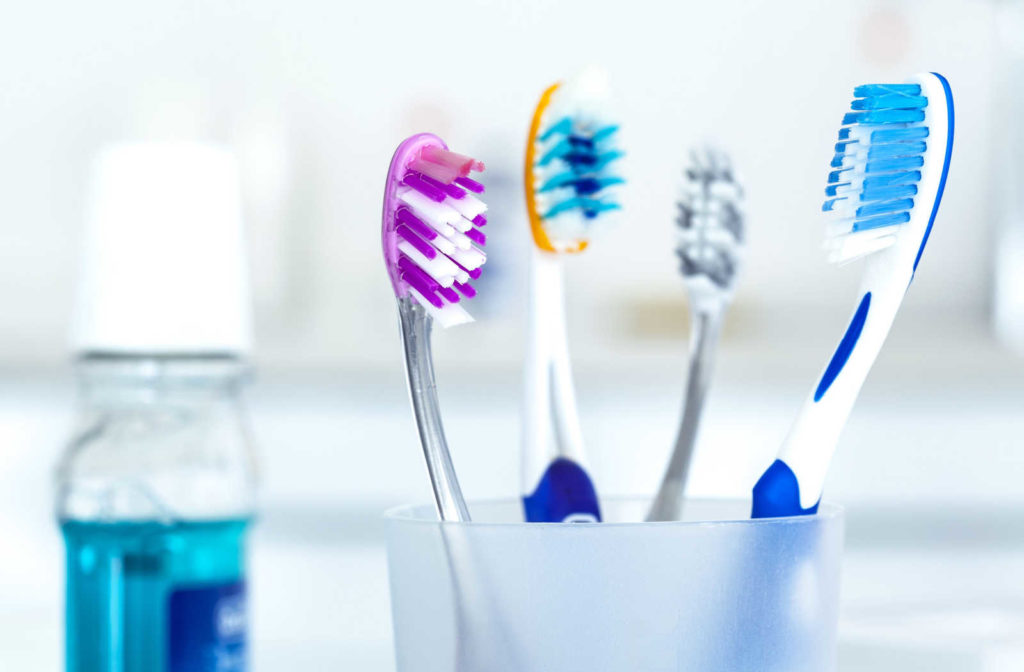 How Often Should You Replace Your Toothbrush?
Your first line of defense against the bacteria that causes gum disease, tooth decay, and bad breath is brushing your teeth twice a day. Unfortunately, if your toothbrush is frayed, the bristles won't work properly and won't clean your teeth and gums the way they should.
A frayed toothbrush can leave your teeth vulnerable to decay and disease, even if you're brushing properly. So how do you know when it's time to replace your toothbrush? If you follow the recommended brushing guidelines of brushing twice a day, for 2 minutes each time, you should replace your toothbrush every 2-3 months.
What You Need to Know About Toothbrush Maintenance
It's important to take care of your toothbrush to ensure it works properly. Follow these tips to keep up with your tooth brush maintenance:
Keep it clean: after using your toothbrush, rine it underwater or soak it in antibacterial mouthwash
Store it properly: store your toothbrush upright so it can dry properly after use
Replace when necessary: replace your toothbrush every 2-3 months or when it becomes frayed
Healthy Teeth Start with Regular Dental Exams
At-home dental care can keep your teeth healthy, but it's also important to keep up with regular dental exams and cleanings. You should be visiting your dentist at least twice a year.
During a dental exam and cleaning, your dental professional will:
Examine your mouth to detect oral issues & signs of tooth-damaging habits
Assess your overall health
Clean your teeth to prevent cavities & gum disease
Check your bite for abnormalities
Educate you on oral hygiene habits
Are You Ready for Your Next Appointment?
At Shawnessy Dental, our knowledgeable and professional staff are here to help you with all of your dental needs. Our goal is to help you achieve the smile you've always wanted. To do this, we offer a variety of dental treatments, including general, restorative, and cosmetic services. Book an appointment with us today to get the dental care you deserve!